Luxury & ComfortAll Around the GlobeShort Overview
The Honda HA-420 HondaJet is a light business jet manufactured by the Honda Aircraft Company in North Carolina, USA. Development of the aircraft began in 1997 and was concluded in 1999. Its inaugural flight occurred on December 3, 2003, and it obtained its FAA type certificate and was delivered in December 2015. As of the end of 2023, there have been 250 jets delivered.
This aircraft, designed to accommodate seven to eight passengers, features a composite fuselage and an aluminum wing. It is equipped with two GE Honda HF120 turbofans that are uniquely mounted on pylons above the wing. With a cruising speed of 420 knots (780 km/h) and a range of 1,400 nautical miles (2,600 km), the HondaJet offers great performance. Moreover, it has received numerous accolades for its aeronautic design and innovation.
The HondaJet is a very light jet with a low-wing monoplane design. It features a composite fuselage and aluminum wing. The unique Over-The-Wing Engine Mount (OTWEM) configuration places the engines on pylons above the wing, maximizing cabin space. This configuration minimizes wave drag at high speeds by superimposing the airflow over the wing with the airflow around the engine. The nose and wing are designed for laminar flow, and the main fuselage has a constant profile, allowing for potential future stretching. The HondaJet utilizes computer simulations and wind tunnels to achieve its optimal engine placement, wing, and fuselage design. It has a retractable tricycle landing gear with single-wheeled main and nose landing gear. The aircraft is powered by two GE Honda HF120 turbofans, developed through a partnership with GE Aviation. The HF120 engine features a single fan, two-stage compressor, and two-stage turbine. It received FAA type certification in December 2013 and production certification in 2015.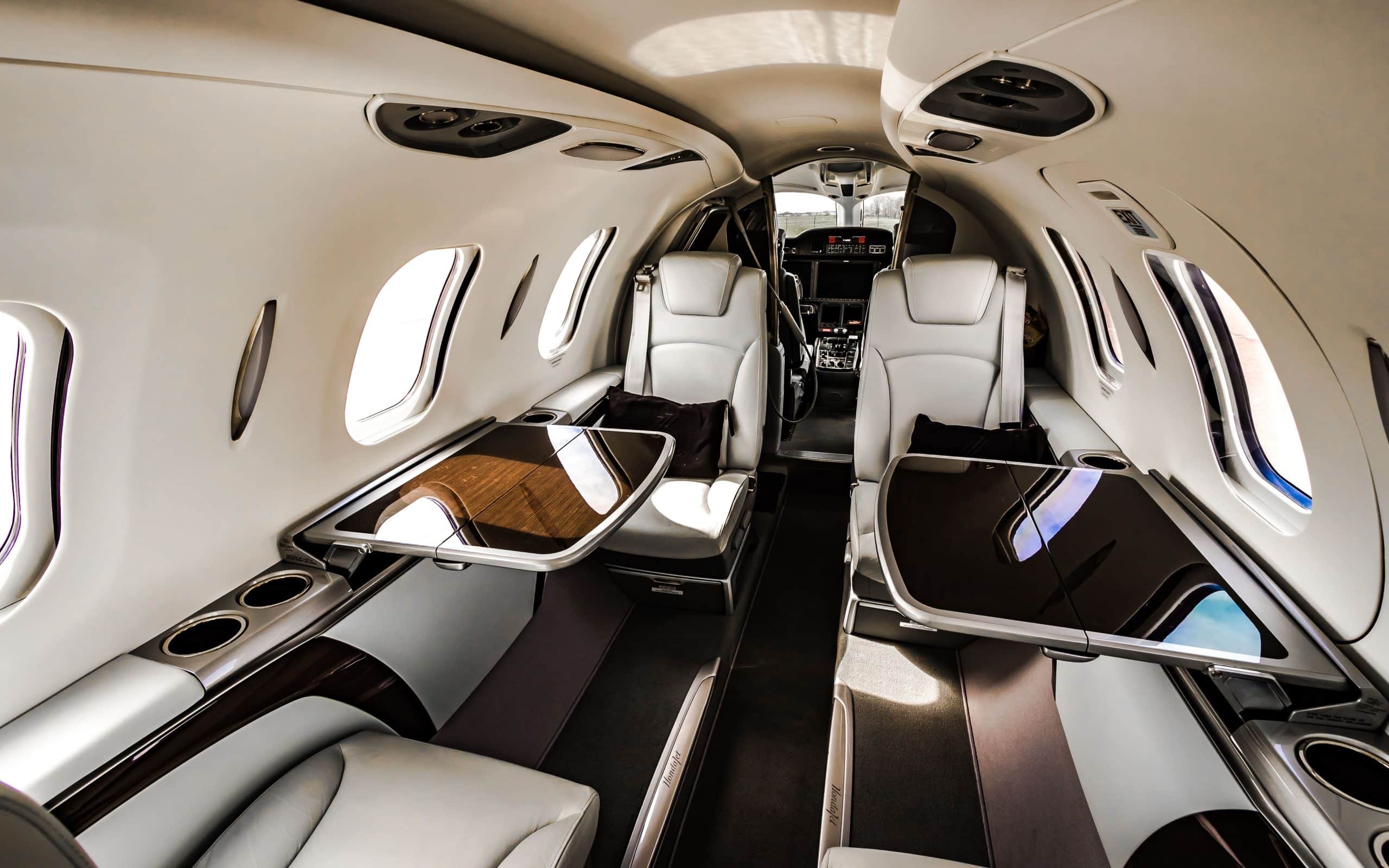 Honda claims that the HondaJet has up to 20% better fuel efficiency compared to similar aircraft, thanks to its lightweight materials, aerodynamics, and efficient engines. According to a report by Business & Commercial Aviation in 2019, for a 1,000 nmi (1,852 km) 4-passenger mission, the HondaJet Elite uses 1,872 lb (849 kg) of fuel. In comparison, the Phenom 100EV uses 1,919 lb (870 kg) (3% more), and the Citation M2 uses 2,018 lb (915 kg) (8% more). For a 300 nmi (556 km) mission, the figures are 679 lb (308 kg), 753 lb (342 kg) (11% more), and 804 lb (365 kg) (18% more) respectively.
The Honda HA-420 cabin seating offers dimensions of 17.80 ft (5.43 m) in length, 5.00 ft (1.52 m) in width, and 4.83 ft (1.47 m) in height. The cabin itself is 12.1 ft (3.7 m) long, with an enclosed lavatory. The total interior volume is 324 cu ft (9.2 m3), and the luggage capacity is 66 cu ft (1.9 m3). The aircraft features a touchscreen 3-display Garmin G3000 glass cockpit system.
Luxury Gastronomy
Experience the epitome of luxury gastronomy in flight with Cofrance! As a leading provider of top-notch catering services, we take pride in offering an unforgettable culinary journey that complements your high-flying experience. Prepare to tantalize your taste buds with exquisite flavors, carefully crafted by our team of world-class chefs.
From the moment you step onboard, you'll be treated to a gastronomic extravaganza like no other. Indulge in delectable gourmet meals, showcasing the finest ingredients sourced from around the globe. From succulent meats and fresh seafood to vibrant vegetarian options, our diverse menu caters to all palates, ensuring every passenger's satisfaction.
Our commitment to quality goes beyond the ingredients we use. Each dish is thoughtfully designed to delight your senses, blending innovative techniques with traditional recipes to create truly unique dining experiences. Whether you're craving a melt-in-your-mouth steak or a delicate, artfully plated dessert, our skilled culinary team will surpass your expectations.
At Cofrance, we understand that air travel is not just about reaching your destination; it's about enjoying every moment of the journey. That's why we seamlessly combine outstanding service with exquisite cuisine. Our professionally trained cabin crew is dedicated to providing you with a truly indulgent experience, catering to your every need throughout your flight.
With Cofrance, luxury begins the moment you board the aircraft. We believe that no detail is too small when it comes to enhancing your in-flight experience. From carefully selected wine pairings to personalized menu options, our meticulous attention to detail ensures that your dining experience is nothing short of extraordinary.
So why settle for ordinary when you can savor the extraordinary? Let Cofrance take you on a culinary adventure above the clouds, where luxury gastronomy meets soaring heights. Book your next flight with us and discover the ultimate indulgence in flight. Bon appétit!
Are you tired of long waits and crowded flights? ✈️ Well, do not wait any longer! Book your private jet with Cofrance and experience true luxury in the skies. Our top-notch service and unparalleled comfort make us the best choice for your travel needs. Say goodbye to hassle and hello to an unforgettable journey! #PrivateJet #LuxuryTravel